Our Remodeling Company Services Include:
Kitchen Remodeling

Full service Bathroom Remodeling

Basement Space Renovations

"Aging in Place" Renovations

Design Services Available

Whole House Rehabilitation Services

Preferred Client Services Program
Our Remodeling Company focuses on providing a kitchen, bathroom, basement, or addition of your dreams. This all begins with an intial consultation that clearly defines your project, budget, product selection and timetable. Design services are available for further consideration of project details. Our goal is to be under budget while still providing you with a project that you are completely satisfied with from
"Imagination to Installation".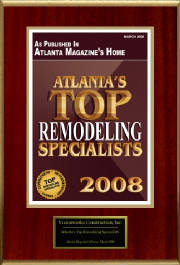 Visionworks Construction, Inc. was named one of "Atlanta's Top Remodeling Specialists" as published in Atlanta's Home Magazine March 2008 Edition. This award was given to a select group of Remodelers servicing the Atlanta Market.